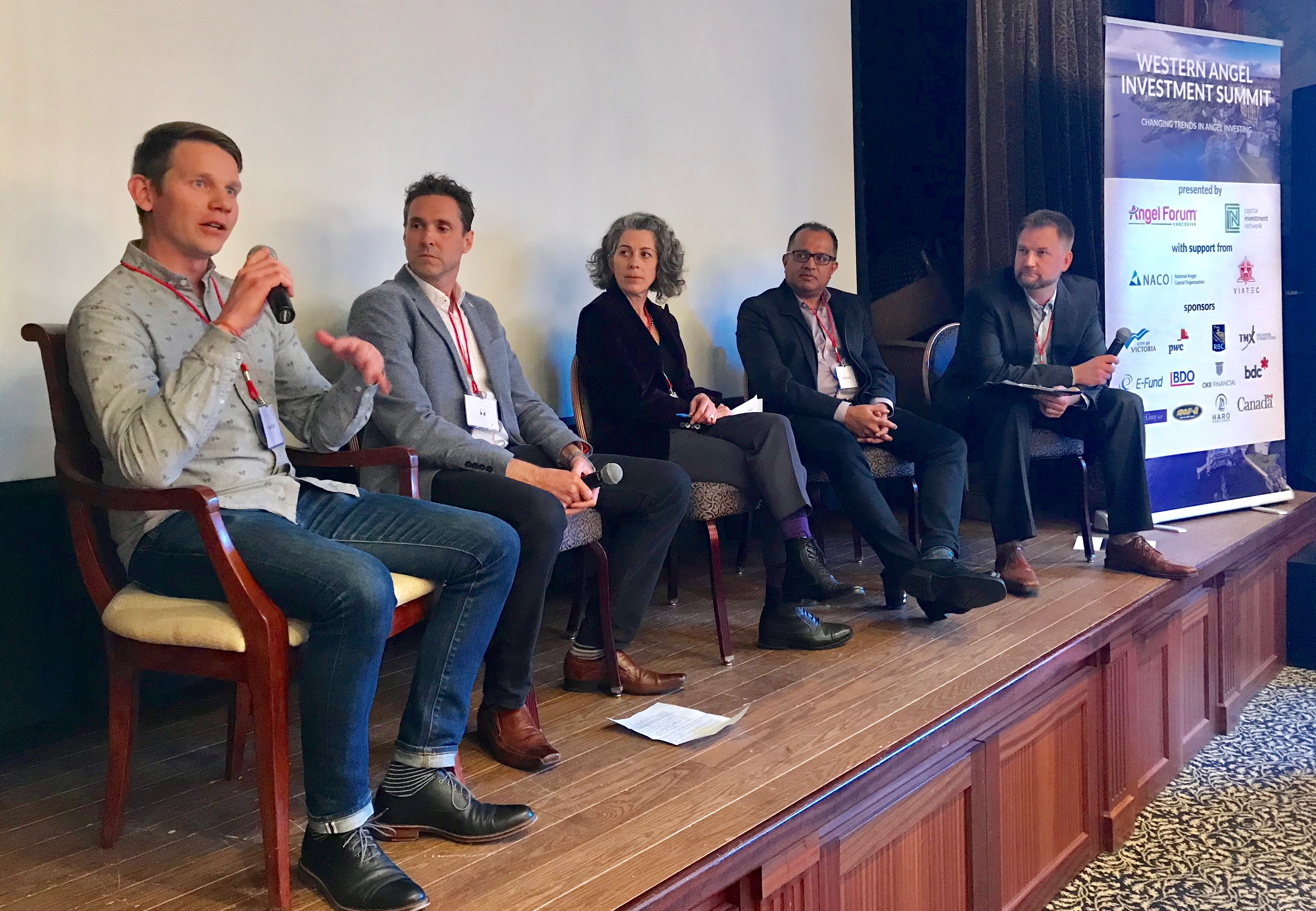 Or: how a large group of angels and entrepreneurs were able to build some lasting and well- informed relations in a short period of time.
Organized by Vancouver's Angel Forum and Victoria's Capital Investment Network, some hundred and twenty angels and entrepreneurs descended on Victoria to discuss the changing trends in angel investing. After an evening of introductory drinks at Victoria's classic Bard & Banker pub, the attendants gathered in the spectacular Oak Bay Beach Hotel the next morning to dive deep into the latest and greatest of angel investing. Victoria was not a random choice, as mayor Lisa Helps explained at the opening of the conference, tech is Victoria's biggest business sector, generating some $4 billion in annual revenues for the local economy. And not only that, a steady flow of new and exciting start-ups is born in this small but increasingly important entrepreneurial hub.
Participants came from everywhere, a third from Victoria itself, a third from Vancouver and the balance came from the rest of Canada with even a few Americans and Europeans in the mix. It was seasoned super angel Ralph Turfus who got the audience going with some deep reflections on his entrepreneurial and investment career. Ralph brought home some important lessons to the (aspiring) angels attending, some very detailed metrics from his large portfolio made it clear that angel investing more than any other investment discipline requires an extremely focused approach and above all, portfolio diversification. Turfus made clear how more recently he has gravitated to funds, a message the various entrepreneurs took to heart, realizing that trying to corner Ralph for a cheque would probably not be a terribly great strategy.
A total of seven carefully curated companies pitched during the day - moderated by Kirk Hamilton - all of them capturing the audience with their enthusiasm, technology and above all strong commercial traction: Cuboh, Interpodia, Vivo Team, Mailchannels, Redlen, Hypernose and Limbic Media. Sponsor E-Fund happily took over the 8th spot following a cancellation from Suva. The presentations sparked quite a bit of discussion and the audience kept going with some strong questions, even after the lunchtime break when audiences tend to get a bit sleepy, not so here in Victoria. The audience also voted, Redlen, Limbic and Cuboh placed top three and earned slots to present at Angel Forum on April 16 in Vancouver.
The lunch break was reserved for a fireside chat with Vistara's Capital founder and managing partner Randy Garg. E-Fund director and seasoned Victoria-based tech investor James de Greef acted as moderator and probed deep into the mind of the pros and cons of providing debt to tech companies that are scaling in excess f $10 million revenue. Following Ralph Turfus' self acclaimed A-type personality it struck James that Randy was rather 'chill' and wondered out loud if equity attracts A-types and debt attracts more relaxed people? Randy did not have an answer for that, but pointed to some important metrics and trends in his industry, which although derived from the debt business were equally informative for the equity players in the room. Co-panelist Richard Egli from Alacrity and Mike Winterfield from Active Impact Investments were able to give some perspective on how early stage investing has evolved and what worked for them in building relationships between funders and entrepreneurs.
The debate on women in tech also got attention, an attendee pointed out that the 'investing in women' label is often marketing by financial institutions and that it is still quite hard for women to get funded. True indeed. When panel member Jennifer Thompson, herself an accomplished angel investor, was asked why there are so few female investors, Thompson did not miss a beat and responded: "Women are very cheap, as angel investors, they would not blow $50k on a sketchy tech deal the way guys would". And on that note the attendees realized that one can actually learn a lot more from the more outspoken people with real life experience than from textbook platitudes.
As the indoor part of the event wrapped up the audience said goodbye to departing NACO CEO Yuri Navarro, a man who has contributed a phenomenal amount of energy and commitment to helping build the Canadian angel investing ecosystem. Yuri is on his way to an exciting new future that brings him closer to doing actual deals, cross border no less. The afternoon concluded with a company tour that included visits to the Alacrity Foundation, Certn, Econics, Freshworks, Kano Apps and Racerocks. The visits were a success and all participants managed to find their way to the Canoe Brewpub where the die-hards went to work on the beers, oysters and other snacks in order to celebrate a very successful angel summit.
Angel investing is above all building relationships, exchanging ideas and finding ways to find common ground so that there is a framework for collaboration all the way to the exit of a company. The 24 hours in Victoria were evidence of how you do that.
A big thanks to the organizing committee: Stephanie Andrew, Joelle Blaikie, Irene Dorsman, Pieter Dorsman, James de Greef, Anna Quinn and Jordan Schley.
Thanks to co-organizers NACO and VIATEC.
And an even bigger thanks to the sponsors: City of Victoria, Harper Grey, BDC, OKR Financial, BDO, PWC, E-Fund, TMX Group, RBC, Haro Ventures and 100.3 Q.