2020 Western Angel Investment Summit - Victoria - SOLD OUT
Event Details
WIN TOGETHER - Connecting angels, funds and accelerators
Presented by Angel Forum, Capital Investment Network with the support of VIATEC and NACO.
For both investors and entrepreneurs
Venue: Oak Bay Beach Hotel - Use rate code 162262 and call 1-800-668-7758 or visit www.oakbaybeachhotel.com to book a room at the special Summit rate. Rates are valid February 20 – 23, 2020 and deadline for room reservation is January 21, 2020.
Summit Agenda
Thursday, February 20, 2020
6.00pm Social at Canoe Brew Pub - Victoria
Friday, February 21, 2020 - Summit Day
7.45am Registration and Buffet Breakfast
8.30am Opening Summit by Mayor Helps
8.45am Setting the Stage – Maximizing Investment Outcomes by Bringing the Ecosystem Together - Claudio Rojas - CEO at National Angel Capital Organization
9.00am Key Note - Hans Knapp - Angel Investor and Partner Yaletown Ventures
9.45am Group Networking Exercise: Angel Investor Bingo
10.30am Coffee break
11.00am Vinn
12.20pm Lunch
12.30pm "Working Together to Win Together" - Panel - Seed Funds, Accelerators and Incubators
Moderator: Richard Egli - Managing Director Alacrity Canada
Patrick Lor - Managing Partner Panache Ventures
Mohan Markandaier - Managing Partner Good News Ventures
Jeanette Jackson - CEO Foresight
Kari LaMotte - Managing Director Entrepreneurship@UBC
Rob Bennett - COO and Program Director VIATEC
1.15pm VitaminLab
2.40pm Break
3.00pm "Learning from the Best in the Province" - Panel - BC's Angels of the Year
Moderator: James de Greef - Chair CIN and co-founder GenoLogics, recently acquired by Illumina.
Hannes Blum - 2018 VIATEC/CIN Angel of the Year
Stephanie Andrew/Elizabeth Dutton/WEL - 2019 VIATEC/CIN Angel of the Year
John Robertshaw - 2019 AF Angel of the Year
Jennifer Thompson - AF Angel Investor
Pieter Dorsman - AF Director and Angel Investor
4.00pm "Victoria - what you didn't know yet but should "- Dan Gunn - Executive Director VIATEC
4.45pm Leave for Bard & Banker
5.00pm Bard & Banker, downtown Victoria
You might consider extending your stay at the Oak Bay Beach Hotel with an extra night or two (at Summit discount!) to enjoy their wonderful facilities.
By attending this event, you consent to the use of photography/video/audio in all forms of media, for any and all promotional purposes including advertising, display, audiovisual, exhibition or editorial use by Angel Forum without payment or other compensation.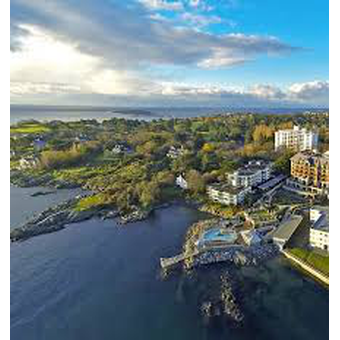 Oak Bay Beach Hotel, 1175 Beach Drive, Victoria