2022 Western Angel Investment Summit - Victoria - SOLD OUT
Event Details
Back to Basics

Connecting angels, founders, funds and accelerators

Summit Agenda

Thursday, April 7th, 2022
6.00pm
Social @ Swans - 506 Pandora Avenue, Victoria

Friday, April 8th, 2022
8.30am
Summit Opening
8.35am
What Hit Us? Recap 2020-2022
Pieter Dorsman - Director Angel Forum
8.50am

How InBC Investment Corp. will deliver on its mandate to help promising companies grow, while generating returns that benefit all British Columbians

Jill Earthy - Chief Executive Officer at InBC
9.10am
New Frontiers - The World of Web3, Metaverse and NFT's
and opportunities for angels
Casey Lau - Co-host of RISE, Collision and Web Summit
Chris Neumann - Partner Panache Ventures
9.30am
Lisa Helps - Mayor Victoria
9.45am
And now? Back to Basics - what do angels do
Pieter Dorsman - Director Angel Forum
James de Greef - Chair Capital Investment Network
10.00am
Break the Ice - the Angel Investor Way
10.15am
Coffee Break
10.45am
Return of the Titans panel
What are the companies that presented in 2019 up to and how did angels help?
Caleb Benabe -

Co-founder and CEO VINN - Moderator

Rachel Chase

- CEO and Co-founder Zennea Technologies

Juan Orrego

- Co-founder and CEO Cuboh

Jim Balcom - COO Redlen Technologies
11.30am
Company Pitches - the next success stories
Nyoka Design Labs - Paige Whitehead
Swede - Anthony Stubbs
VoxCell BioInnovation - Dr. Karolina Valente
12.30pm
Lunch break
1.45pm
Company Pitches - the next success stories
Plantsome - Kevin Tholenaars
Signalytic - Nico Christofi
NANOSentinel - Viridiana Perez
Frontly - Patrick Kelly
3.00pm
Coffee break
3.30pm
Hard to Finance companies and when Angels say no
Founder Panelists who lived the experience will provide viable solutions
Julie Angus

- CEO Open Ocean Robotics - Moderator

Michiel Riedijk - President & CEO Lucent BioSciences
Lachlan Shum - Founder at Focal
Melanie Rupp - LP Women's Equity Lab and Interim CEO WeBC
4.30pm
Most promising pitch announcement
4.45pm
End of Summit Day
6.00pm
Social @ VINN's New Offices - 844 Courtney St #400, Victoria,
Back to Basics
Connecting angels, founders, funds and accelerators - In Person!
Presented by Angel Forum, Capital Investment Network with the support of VIATEC.
Venue: Oak Bay Beach Hotel - Victoria
Do not forget to book your room for April 7th (or for Apr. 6th - Apr. 8th as well, so you have time to enjoy the seaside mineral baths .....) at the Oak Bay Beach Hotel at the special Summit rate! Call 1-800-668-7758, or e-mail stay@oakbaybeachhotel.com and reference Booking Code 221357 BEFORE MARCH 8 and mention you are part of the Western Angel Investment Summit to qualify.
For both investors and entrepreneurs
It was not just COVID that affected "life as we know it" the last 2 years. Posts on social media would have you almost believe a new unicorn was born every week. Fueled by updates on large raises, take-overs, climbing valuations, one venture fund closing after another, the sky was apparently the limit in the pandemic period.
Is it really? At this year's Western Angel Investment Summit, we want to go back to the basics because success is not a given. What makes a founder succeed and what role can angels play in this, how can we better support the founder?
We will meet companies that pitched at our very first edition of the summit in 2019. They will discuss what worked and did not work for them in growing their companies into the successes that they are now. We'll hear from the InBC Investment Corp. on their plans to support a diverse and supportive ecosystem. And we have great companies that are looking for smart angel money. And there will be ample opportunities for networking and mingling with entrepreneurs and investors.
We will also announce this year's "Greg Smith - Investor and Company TEAM with the MOST GRIT" Award. The Greg Smith Award is to recognize the investor/company team that stuck together to work through some of the more challenging moments that entrepreneurship brings. With this award, we uncover the stories of how a strong and committed team can work together and ultimately succeed.
Because there is no overnight success, we go BACK to BASICS.
Join us for 2 days of fun, networking, socializing, company pitches, speakers and panelists. And don't forget to book your room at this world class venue at the special summit rate!
By attending this event, you consent to the use of photography/video/audio in all forms of media, for any and all promotional purposes including advertising, display, audiovisual, exhibition or editorial use by Angel Forum without payment or other compensation.
We follow the guidelines of the Provincial COVID-19 Safety Plan and will ask for proof of full vaccination.


Trace metal analysis is neither time nor cost effective, which is a problem in many industries. NANOSentinel fills these gaps with a portable, automated, and fast mini laboratory.
We are a B2B platform as a service company. Our device quantifies metals on-site in 4 minutes, using only one drop of sample and so reducing waste. No calibration is needed, and our friendly web interface enables any worker without chemistry experience to use the instrument.
Frontly is a no-code software development platform enabling users to build functional web apps without writing any code. Frontly's technology replaces the role of front-end developers, saving clients $80,000+ per year on salaries and dramatically speeds up product development timelines. The platform is live and functional, and we've begun to work with beta users. We plan to launch paid plans by late April 2022.
Nyoka Design Labs is a Climate tech + Biotech startup that develops (patent protected) safe, biodegradable glow sticks powered with the latest in industrial enzyme biotechnology. Their mission is to take over the 4B chemiluminescent lighting industry in market applications for military, marine, mining, outdoor safety, entertainment, space, and research. Their impact will prevent millions of tonnes of plastic and toxic waste from entering our environment.
Plantsome is Canada's fastest growing online plant store that ships plants to homes all across Canada. In this archaic industry, Plantsome is looking to change the way people shop by providing a fun, frictionless and educative shopping experience that matches the expectations of the modern day shopper. Our custom designed eco-friendly packaging is engineered for a safe arrival of plants. Once the plant is home, Plantsome helps customers care for it with the Plantsome App. The app uses various inputs to give precise watering alerts and instructions so the customer can care for plants without worrying about their health. In two years we've shipped over 75,000 plants and pots this way, generating over $2m in sales.

Signalytic is a global health solutions company with a base in Canada where we develop our technology, and
in Uganda as our first country of deployment. We have developed the only technology available that can successfully provide uninterrupted digital services to health facilities in rural and remote areas in Global South countries today. In the next 3-5 years, we aim to become one of the largest health-payment providers in the Global South. Signalytic digitizes rural and remote health centers through a hardware/software stack which includes our main innovation: a first-of-its-kind distributed ledger technology, designed specifically to work in low resource environments. In 2021, we completed a successful pilot in our first country of deployment in Uganda and are on track to be selected as the technology of choice to digitize the entirety of the Ugandan health care system. We are raising a $1.5M seed round with about $500k of the round remaining for interested angel investors or aligned funds. We are EBC eligible and have a close date of April 30th.

Swede is a managed marketplace unifying the fragmented kitchen and home renovation process. Homeowners love our frictionless renovation shopping experiences, and designers are now finally able to productize their design concepts. Our growing community of designers, manufacturers, and contractors provides defensible value that is building every month. This year to date, we're seeing a +736% GMV YOY growth with 408% more users purchasing design experiences. Our scalable marketplace model is growing quickly within a 450+ billion dollar industry, making Swede an exciting opportunity.
VoxCell BioInnovation is creating fully vascularized, human-like cancer tissue models for preclinical testing. These tissue models offer significant benefits over currently used platforms due to their 3D vascularized structure, mimicking an artificial biopsy sample. VoxCell aims to accelerate the development of life-saving anti-cancer drugs by providing tissue models that can identify inviable candidates earlier in the drug development process. Whether it is pharmaceutical companies testing new drugs in the lab, or medical professionals determining which therapy is best for their patient, VoxCell is changing the way we think about tissue models through 3D bioprinting.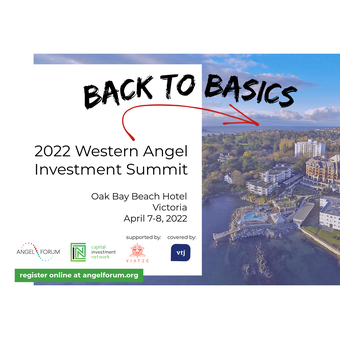 Oak Bay Beach Hotel, 1175 Beach Drive, Victoria