Angel Forum Okanagan - A Virtual Summit
Event Details
Angel Forum in the Okanagan - A Virtual Summit
Early Stage Investing through the Crisis
Presented by Angel Forum and Accelerate Okanagan
For both investors and entrepreneurs
Venue: Online
Summit Agenda:
Thursday, September 17, 2020
2.00-5.00pm Half Day Workshop (Online): Angel Investing from First Cheque to Exit
This interactive half day workshop is an introduction to angel investing, geared towards both entrepreneurs and investors.
The course will cover the journey from the first meeting between a company and an investor, all the way to a successful financing and exit.
By the end of this course participants will be able to:
Better understand current market trends
How to prepare for financing and build investor-company relationships
Understand valuation methods currently used
Understand the different term sheets currently used
Describe the effect of a term sheet
Understand how to manage post-investment relationships
Friday, September 18, 2020 - Summit
9.30am Opening Summit by Steve Thomson - MLA Kelowna-Mission
9.45am Welcome by Brea Lake and Irene Dorsman
10.00am Colin Mason - Angel investing in Canada – looking back and looking forward
10.20-10.30 Break
10.30-11.15 Fireside with - Jenny Yang: From Entrepreneur to Investor: the reality of angel investing and a comparison of founder/startup experience vs angel investor experience
11.15am First Round of 3 company pitches
Qase
Spinndle
Darwin
The companies selected to present at this summit will vie for several bragging worthy Investor Choice awards generously provided by our sponsors. The people attending the summit will get to vote who gets the award for:
The company with the best revenue potential
The most innovative company
The company most likely to go public
The strongest team
The best presentation
And last but not least: the company invited to present at our Whistler Summit
12.15-12.45 Break
12.45- 1.45 Tom Urban: Venture Investing Approach
Followed by a round table discussion with Sandra Oldfield/EIR Accelerate Okanagan, Jason Sparrow/Barrelwise and Michael Riedijk/Serial Entrepreneur, Green/Clean Investor, Lucent BioSciences-Soileos how they navigated recent challenges and lessons they have learned
1.45-2pm Break
2-3pm 3 company pitches
Fable
Flow
VCV
3pm Awards Time!
For selected companies only:
3-4pm Online one-on-one coaching/mentor 20 mins sessions with keynotes and investors for entrepreneurs.
Angel Forum in the Okanagan - A Virtual Summit
Early Stage Investing through the Crisis
Presented by Angel Forum and Accelerate Okanagan
For both investors and entrepreneurs
Venue: Online
Agenda will be regularly updated. Yes, the topic is serious, but who says we cannot have fun in the process? Don't expect a highly stylized, over produced event. We like to think we are good at connecting people and building networks and therefore we look forward to a highly interactive event, where everyone participates! No question is a dumb question, no comment is a silly comment, just throw in your 2 cents worth and see where it gets us.
And yes, we really miss seeing you in person but this might work for now ...
Remember the great welcome wine event we had at the Indigenous World Winery last year? We have looked into have an online tasting event but no matter how good, it never comes close to actually being at their great winery, enjoying their wines and beautiful food.
HOWEVER, we can try something right? With help from the Indigenous World Winery, we will award the 1st, 10th, 20th, 40th, 80th and 160th person who registers with a gift package of 2 bottles of their award winning wines directly shipped from their winery to yours (provided you don't live in Ontario or outside Canada .. those silly laws..). So get your registrations in!
We look forward to the following people joining us:
Colin Mason is Professor of Entrepreneurship in the Adam Smith Business School, University of Glasgow, Scotland. He has written extensively on business angel investing for nearly 30 years, being recently described by one (anonymous) Canadian academic as "the godfather of angel research". His research has influenced both policy and practice in the UK and elsewhere. He has been the lead author on NACO's Angel Activity Reports in 2010 and 2011 and every year since 2015.

Colin is currently examining the immediate and longer term effects of the COVID-19 crisis on business angel investing.

Jenny Yang is Senior Advisor, MaRS

Enterprise.

Jenny is a serial entrepreneur and angel investor. She was co-founder and CEO of Aida (acquired by Vision Critical) and Metafor Software (acquired by Splunk). Jenny was also a VC at BDC Capital where she led investments in technology startups, and was a consultant with both The Boston Consulting Group and Bain & Co. She holds a Bachelor of Applied Science in Electrical Engineering from the University of British Columbia and an MBA from INSEAD.

Sandra Oldfield is an Executive in Residence at Accelerate Okanagan. She brings over 30 years of strategy, marketing and human resource knowledge in her CEO role from production, sales and customer experiences in the wine industry of BC. Sandra founded Tinhorn Creek Vineyards in 1994 and grew it from a 1,000 case production to over 40,000 cases before its sale in 2017. As owner she led with innovative packaging and marketing initiatives including becoming the only carbon neutral winery in Canada and the only winery to include its employees as an integral part of its sustainability program. She was awarded Canada's 100 Most Powerful Women in the Trendsetters and Trailblazers category and now enjoys assisting dynamic companies with incorporating employee engagement into their strategic planning.

In the last few months she has been helping companies through cash flow management issues, forecasting and employment issues such as how to keep employees needs top of mind.

Tom Urban is the Founder of Agribusiness Advisors and an Entrepreneur in Residence at the University of British Columbia. Tom has worked in the agriculture and start-up world for 30 years. Agribusiness Advisors currently has 16 active early-stage investments in its portfolio representing a broad cross-section of the Ag value chain. Tom received his undergraduate degree from Middlebury College and an MBA from the Harvard Business School.

Jason Sparrow was born and raised in Edmonton, Alberta, Jason's love of hiking, skiing and camping inevitably brought him to the west coast. He began his career in the food equipment industry, working for several years as a Marketing and Business Development Manager before co-founding BarrelWise Technologies in 2018.

Jason holds a BA in History and Economics from the University of Victoria, as well as an MBA in Innovation and Entrepreneurship from the University of British Columbia.

Michael Riedijk – CEO, entrepreneur & clean/green tech investor.

Michael is Director at West Coast Ventures Inc., an early-stage private investment fund focused on innovative software and green/clean start-ups. He also holds the Director position at Lucent BioSciences, Inc. creator of Soileos: a new class of sustainable, EDTA-free "bio released" micronutrient fertilizers that grow crops with higher yield & nutrient levels at a lower cost per hectare, and don't pollute.

Michael is an experienced CEO and green/clean tech Investor with a history of working in internet, cleantech, agriculture, and marine technology. Strong business development professional with a master's degree in Industrial Design Engineering from Delft University of Technology in the Netherlands.
| | |
| --- | --- |
| | Flow is a B2B SaaS providing design and development integration. Helps teams craft beautiful user experiences, build better products, ship faster and save money. Flow was founded in 2015, by Travis Kirton and is headquartered in Vancouver, Canada. |
| | VCV is a Vancouver based company. We have developed an AI powered 3D vision system (4D Vision) exclusively aimed at high speed industrial robotic applications. Our system uses off the shelf cameras and is hardware agnostic. It turns 3D vision from hardware solution to a flexible and very fast software solution. We just finished product validation with Magna International with impressive results and sealed our first sale. |
| | Fable is building the next generation home decor brand. Millennials are looking to upgrade from their 'Ikea years' and traditional retailers that are expensive and not relatable. Fable offers high quality, exquisite design, and sustainably sourced home decor products in a seamless direct-to-consumer customer journey. Millennials are clamoring for Fable products, with a very limited assortment of dinnerware products, Fable will hit $2.5M in revenue by the end of this calendar year (their first year of operation). The first product they launched sold out in just 48 hours. |
| | Spinndle is a K-12 social platform for student-led projects. While other learning management platforms bottleneck progress at the teacher, a social hub like Spinndle allows students to operate much the way adults are expected to in the modern workplace: actioning on feedback from peers, collaborating, sharing ideas, and tracking their own progress. Teachers have everything they need to monitor and mentor daily engagement, whether remote, in-person or hybrid learning environments. |
| | Qase is a SaaS-enabled legal services marketplace for the post-COVID-19 world. Qase makes it easy for people find and work with lawyers entirely online. They can schedule appointments, send messages, video chat, and share files quickly and securely – without leaving their homes. Qase will help millions to safely get the legal support they need now, and in the future. |
| | Darwin is a Vancouver-based digital health innovation lab. We have recently launched Clear360, an early to market enterprise SaaS solution. Clear360 was developed to help keep teams and workplaces safe from health risks, especially viral illnesses. Our solution helps reduce the risk of potential outbreaks by automating daily health screenings, enables pre-arrival check-ins, offers tools to manage symptomatic individuals and ensures operations teams can respond effectively to a health crisis. Our business is highly scalable, based on high margins and is needed by medium to large enterprises. Clear360 is targeted at multiple essential services verticals, including: education, utilities, travel and healthcare. |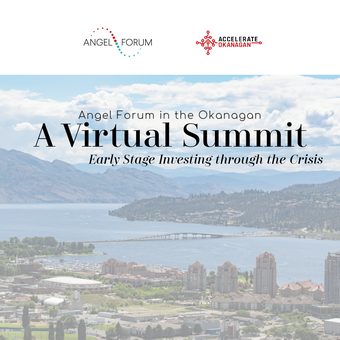 460 Doyle Ave, Kelowna, BC V1Y 2A2, Canada