Angel Forum - October 17, 2019 - Company Application
Event Details
Since 1997, the Angel Forum - Vancouver has successfully introduced emerging companies to private equity investors at its semi annual full day Vancouver Forum.
Up to 18 pre-screened selected companies will:
Present to 50+ accredited investors (10 minutes pitch, 4 minutes Q&A) and get feedback from the Investor Only debrief.
Be provided with a table top booth space in the main room to demo their products/services and meet with potential investors 1 to 1.
Network with 100+ attendees. Note that advisors/observers are not allowed to attend.
Registration includes attendance of 2 company representatives, WiFi, table top booth, sandwich lunch & wine reception.
To be considered for a presentation slot:
1. register and pay the fee through the website - registration link below
2. send a copy of your current pitch deck and a completed 2 page executive summary (as per this outline) to irene@angelforum.org.
Objective: to select companies that have the best chance of being funded by investors.
Timing: early applications have a better chance to be selected. We expect registration and company information to be provided at the same time.
Feedback: our expert selection team will provide detailed feedback by e-mail to all applicants who have completed their Company Profile, Pitch Deck and Registration. Optional video is recommended.
Selection or Deferral: all applicants will be notified by email of their selection of deferral one week before the Forum at the latest.
Previous Presenter: If you presented at a previous Angel Forum, please allow at least 6 months to pass before re-applying.
Refunds: If not selected, refund of $450.
Cancellations or no-shows: cancelations to be sent by e-mail to irene@angelforum.org before September 26th, 2019 no refunds for cancelations/no-shows/withdrawals received after September 26th, 2019.
Note: By attending this event, you consent to the use of photography/video/audio in all forms of media, for any and all promotional purposes including advertising, display, audiovisual, exhibition or editorial use by Angel Forum without payment or other compensation.
46th Edition of the Angel Forum | October 17, 2019 | Schedule
SFU Harbour Centre, 515 West Hastings - Ground Floor
7:30 Companies check in; load pitch in room #1600 and set up in room #1400-1430
7:45 Investors check in and enjoy breakfast - room #1400-1430
8:00 Opening of the 46th edition of the Angel Forum
8:30 Investors only - room #1600 - time for introductions
8:45 Company Presentations
8.45 Minga
9:05 Brinka
9:25 Productlift
9:45 Olive
10:05 Tuft + Paw
10:30 Coffee break - room #1400-1430
11:00 Company Presentations - room #1600
11:00 Taste Advisor
11:20 Keela
11:40 SaNOtize
12:00 Orbitless
12:20 Kosan Travel Co.
12:40 AiDANT
1:00 Lunch break - room #1400-1430
1:45 Meet the Sponsors
2:15 Company Presentations
2:15 VINN
2:35 Vancouver Computer Vision
2:55 JRAS Medical
3:15 Qase
3.35 Certicraft
4:00 Q&A Investment Capital Branch
4.15 Wine Reception - room #1400-1430
5:00 Awards Time Investor Choice Awards
Best Revenue Potential presented by Harper Grey
Most innovative Company presented by PwC
Most Likely to go Public presented by TSX Venture Exchange
Best Presentation presented by OKR Financial
Best Team presented by Apply
6:00 Room closes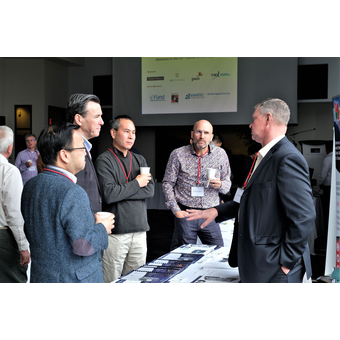 Downtown, Vancouver, BC, Canada