Angel Forum Prime - June 27th - Sea to Sky Gondola
Event Details
A new kind of event, with a focus on what makes the Angel Forum tick: our Investor members!
For those that don't know the area yet, we would like to introduce you to our beautiful Sea to Sky corridor. Yes, we are biased as we live in Lions Bay but believe us when we say it is worth it. After a beautiful drive on the Sea to Sky highway, the Sea to Sky gondola will take you to the top where you will enjoy spectacular views. And as we just can't help ourselves: we'll arrange for 4 special companies to present. After, we'll be exploring the surroundings followed by drinks and appetizers on the deck while enjoying - have we mentioned it yet? - the beautiful views.
After that we will have dinner with the whole group and when the sun disappears behind the mountains across the Howe Sound, we'll ride down the gondola.
As this is a Prime event, seating is extremely limited and Angel Forum members and their partners have priority. Tickets are available till May 31st for members only, after that, if there is still space, tickets will be available to non-members.
For those that would like to have transportation from downtown Vancouver to the Sea to Sky Gondola and back, we have arranged a mini coach. Tickets can be bought separately for $40.
Cost $150 for members and their partners, $200 for non-members
Tickets cover the ride on the gondola, coffee and tea, appetizers, dinner and drinks and access to all the Sea to Sky Gondola has to offer - including SPECTACULAR views.
We have arranged a mini coach from Vancouver to the Sea to Sky gondola and back for an additional $40.
Presenting companies: TBA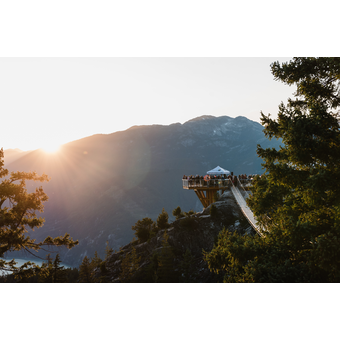 Sea to Sky Gondola, 36800 BC-99, Squamish, BC V0N 3G0, Canada