DAO Night - presented by Webcouv3r and Angel Forum
Event Details
Remember we talked about DAO's at the Western Angel Investment Summit in Victoria?
And that Casey promised to put together an event with us where everything DAO (Decentralized Autonomous Organization) would be discussed?
Inspired by the decentralization of cryptocurrencies, a group of developers came up with the idea for a DAO in 2016.
The DAO is an organization that is designed to be automated and decentralized. It acts as a form of venture capital fund, based on open-source code and without a typical management structure or board of directors. To be fully decentralized, the DAO was unaffiliated with any particular nation-state.
As the leading city in Web3, we thought it was time to showcase the leaders in the space in Vancouver alongside our friends at Webcouv3r. Join us on June 2nd for this exclusive event. We plan to explore the specifics of DAO creation, joining and managing a DAO, and look at the opportunities, and challenges in the DAO space in Webcouv3r.
Joining us for this exclusive DAO Night panel are:
ANNIKA LEWIS, GitCoin
ADRIAN LI, YVR DAO
GREGORY PEACOCK, squiggleDAO
Moderated by Chris Neumann, Panache Ventures and Irene Dorsman, AngelForum.
Virtual Master of Ceremonies Casey Lau, Webcouv3r.
NON MEMBERS PLEASE REGISTER here.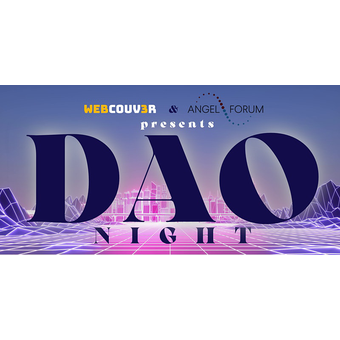 The Home Key Esports , 560 Seymour Street #Suite 2A , Vancouver, BC V6B 3J5