Okanagan Angel Investment Summit - Company Application
Event Details
Up to 8 pre-screened selected companies will:
pitch for 10 minutes to summit delegates followed by 10 minutes Q&A
Network with 100+ attendees. Note that advisors/observers are not allowed to attend.
When invited, the fee includes summit attendance of 2 company representatives, 2 page company profile in summit book, workshop on the 19th, kick-off event, and full summit day on the 20th, including food and drink, numerous networking opportunities and 1 on 1 pitch coaching. And if you end up in the top 2 (to be determined by the attendees), you will be invited to present at the October Angel Forum in Vancouver.
To be considered for a presentation slot:
1. register and pay the fee through the website - registration link below
2. send a copy of your current pitch deck and a completed executive summary (as per this outline) to irene@angelforum.org.
Objective: to select companies that have the best chance of being funded by investors.
Timing: early applications have a better chance to be selected. We expect registration and company information to be provided at the same time.
Feedback: our expert selection team will provide feedback in report form to all applicants who have completed their Company Profile, Pitch Deck and Registration. Optional video is recommended.
Selection: all applicants will be notified by email of their selection by September 8, 2019
Refunds: If not selected, refund of $350 (+GST).
Cancellations or no-shows: cancelations to be send by e-mail to irene@angelforum.org before August 22, 2019 no refunds for cancelations/no-shows/withdrawals received after August 22, 2019.
Note: By attending this event, you consent to the use of photography/video/audio in all forms of media, for any and all promotional purposes including advertising, display, audiovisual, exhibition or editorial use by Angel Forum without payment or other compensation.
Okanagan Angel Investment Summit
Angel Investing: a Changing Landscape
Presented by Angel Forum and Accelerate Okanagan
For both investors and entrepreneurs
Venue: Innovation Centre, 460 Doyle Ave, Kelowna, BC V1Y 0A2
General Admission tickets $150/members, $200/non-members and include the kick-off event on September 19th (excluding workshop) and full summit day on the 20th.
Workshop $50 - tickets to be bought separately
Kick-off Event on Sept. 19th only: $35 which includes canapes and wine.
Summit Agenda:
Thursday, September 19, 2019
1.00pm Half Day Workshop on Structuring Deals and Term Sheets at a separate $50 fee. Official NACO module.
This interactive half day workshop is geared both to entrepreneurs and investors. A term sheet lays the groundwork for ensuring that the parties involved in an investment transaction are in agreement on most major aspects of the deal, thereby precluding the possibility of a misunderstanding. Because investment terms, company valuation, and the longer-term implications of investment terms are not "one size fits all", it is important that investors understand the definition of terms and their application in each distinct deal. This module will provide both entrepreneurs and investors with an understanding of the purpose of the terms and conditions and their appropriate use in structuring deals to maximize return and minimize risk.
Presenter: Pieter Dorsman
For both Investors and Entrepreneurs.
5.30pm Kick Off Event - free for Summit ticket holders
Indigenous World Winery
2218 Horizon Drive, Kelowna
Friday, September 20, 2019 - Summit
8.00am Registration and Breakfast
8.30am Opening Summit
8.45am Keynote Speaker - Eva Lau - Serial Entrepreneur and Managing Director and Co-Founder of Two Small Fish Ventures
9.30am Group Networking Exercise
10.30am Coffee break
11.00am 4 Company Pitches
12.30pm Lunch
1.00pm Keynote Speaker - Ralph Turfus - Super Angel and Executive Mentor
Followed by panel discussion:
Eva Lau - Managing Director and Founder Two Small Fish
Mike Winterfield - Fund Manager at Active Impact Investments
Patrick Lor - Managing Partner Panache Ventures
Ralph Turfus - Super Angel
with audience participation on the changing landscape of angel investing
2.15pm 4 Company Pitches
3.45pm Local Company Tour
5.30pm Reconvene at the Curious Café & Bar, 1423 Ellis St, Kelowna for a drink and a bite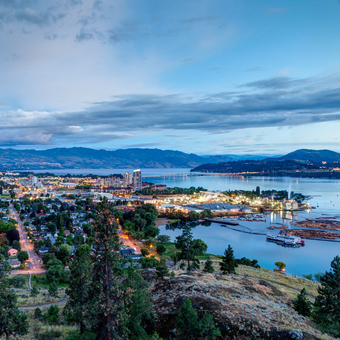 460 Doyle Ave, Kelowna, BC V1Y 0A2, Canada