Okanagan Angel Investment Summit - Kelowna
Event Details
Okanagan Angel Investment Summit
Angel Investing: a Changing Landscape
Presented by Angel Forum and Accelerate Okanagan
For both investors and entrepreneurs
Venue: Innovation Centre, 460 Doyle Ave, Kelowna, BC V1Y 0A2
General Admission tickets $150/members, $200/non-members and include the kick-off event on September 19th (excluding workshop) and full summit day on the 20th.
Workshop $50 - tickets to be bought separately and tickets do include Kick-off Event at the Indigenous Winery.
Kick-off Event on Sept. 19th only: $35 which includes canapes and wine.
Summit Agenda:
Thursday, September 19, 2019
1.00pm Half Day Workshop on Structuring Deals and Term Sheets at a separate $50 fee - includes Kick-off Event - Official NACO module.
This interactive half day, highly reviewed workshop is geared both to entrepreneurs and investors.
This module will provide both entrepreneurs and investors with an understanding of the purpose of the terms and conditions and their appropriate use in structuring deals to maximize return and minimize risk. The workshop will be followed by a panel discussion after which we invite you to join us at the Indigenous Winery to kick-off the Okanagan Angel Investment Summit in good company. More detailed on the workshop can be found here.
Presenter: Pieter Dorsman
For both Investors and Entrepreneurs.
5.30pm Kick Off Event - free for Summit and Workshop ticket holders
Indigenous World Winery
2218 Horizon Drive, Kelowna
Friday, September 20, 2019 - Summit
8.00am Registration and Breakfast
8.30am Opening Summit by Kelowna Mayor Colin Basran
8.45am Introductions
9.15am Keynote Speaker - Eva Lau - Serial Entrepreneur and Managing Director and Co-Founder of Two Small Fish Ventures
10.00am Coffee break
10.30am Company Pitches
ProductLift
Kinematic Soup
SaNOtize
Minga
12.00pm Lunch
12.30pm Keynote Speaker - Ralph Turfus - Super Angel and Executive Mentor
Followed by panel discussion:
Eva Lau - Managing Director and Founder Two Small Fish
Mike Winterfield - Fund Manager at Active Impact Investments
Patrick Lor - Managing Partner Panache Ventures
Gautam Banerjee - Partner at Apply Ventures
with audience participation on the changing landscape of angel investing
2.00pm Break
2.15pm Company Pitches
Medident
XCo
Taste Advisor
Talous Interactive
3.45pm Local Company Tour
Pela
Trellis
Tonit
Playr.gg
UBCO Innovation Hub
Get in the Loop
5.30pm Reconvene at the Curious Café & Bar, 1423 Ellis St, Kelowna for a drink and a bite
The following companies have been selected to present at the Okanagan Angel Investment Summit:
We have arranged for a special discounted summit rate with the brand new and highly rated Holiday Inn Express & Suites in Kelowna - East at $149 for Studio King Suite. For reservations call the hotel directly @ 778-484-2999 and mention the block booking code AFA.

You can also book online through this link.
PLEASE NOTE: TO ENJOY THIS RATE BOOKINGS SHOULD BE MADE BY SEPTEMBER 9, 2019.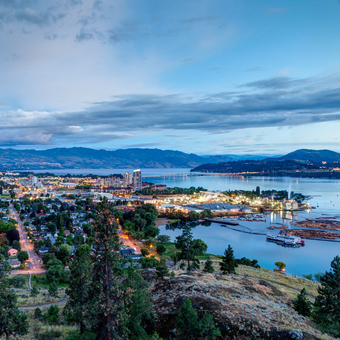 460 Doyle Ave, Kelowna, BC V1Y 2A2, Canada