Summit on the Mountain - June 10, 2022 - Sea to Sky Gondola
Event Details
A new kind of event: Summit on the Mountain: Friday afternoon, 7 special companies presenting at a special location!
For those that don't know the area yet, we would like to introduce you to our beautiful Sea to Sky corridor. After a beautiful drive on the Sea to Sky highway, the Sea to Sky Gondola will take you to the top where you will enjoy spectacular views. This will be followed by a lunch and to stay true to our mandate: we'll arrange for 7 special companies to present. After that you'll have time to explore the surroundings while enjoying - have we mentioned it yet? - the beautiful views.
Seating is extremely limited and Angel Forum and CIN members and their partners have priority.
Tickets to include the gondola ride!
We look forward to you joining us!
Schedule:
12pm Meet at the Gondola
12.30 - 1.15 Lunch
1.15 - 2.30 Susgrainable
Divisin
Campertunity
Nectarine Credit
2.30 - 3.00 Greg Smith Award
3.00 - 3.30 Break
3.30 - 4.30 Orderlyst
Spraywerx
Enermetrics
4.30 - ?? Enjoy the view
Nectarine Credit is a vendor credit software platform that allows manufacturers and distributors to manage their credit applications and credit decisioning. The current process is broken with billion dollar companies sending out and manually managing hundreds of paper/PDF/Word applications each month. We have a working software platform with clients and revenue. We are raising $500k with a $3 MM valuation cap or a 20% discount. We are using the funds to build out our tech team and an enterprise salesforce.
Spraywerx is a North Vancouver-based nanotech company that has developed and is commercializing unique and patented technology to coat the internal surfaces of pipes and tubes for wear and corrosion protection. Spraywerx is generating revenue through hardware and subscription revenues and is now raising it first extra round to accelerate growth. A number of large industries benefit from the Spraywerx solution with the company having traction in both North America and Europe.
Orderlyst brings profitably back to independent restaurants and suppliers, through the food industry's first true marketplace app.
Divisin.ai is a pricing engine for modern property managers. Divisin works to close the loop between market data and property operations, empowering portfolio-wide decision intelligence. We've built our data pipeline and software to scale, alongside leading property developers.
Susgrainable Health Foods rescues spent grains from craft brewers to create nutritious, delicious, and easy-to-make flours and baking mixes. Susgrainable is a prime example of a circular economy business that upcycles food that was destined to become waste. The added value proposition is that the resulting flour is high in fibre and plant protein but low in sugar and carbs- ticking all the boxes for the premium health-conscious consumer. The company produces upcycled barley flour & 3 baking mixes (cookie mix, pancake & waffle mix, and banana bread mix) from its east Vancouver facility.
ESG and Net Zero goal setting is exploding in today's world, but most organizations have little idea how to best get there.
enermetrics (formarly eDecisions) uses proprietary software to simulate the granular financial and environmental impact of hundreds of combinations of different technologies on facilities' footprint.
This identifies the optimal combination of energy solutions based on a company's baseline, goals, and budget.
That output is then accompanied by a host of financial planning and risk analyses, aimed at allowing the C-suite to make informed investment decisions that achieve their goals.
Campertunity is like Airbnb but for camping. We are an online marketplace where landowners can list their land for campers to book for short term stay. The first in Canada to introduce camping to the shared economy, Campertunity relieves the pain point of there being too many campers and not enough campsites. Campertunity builds community and helps sustain land by unlocking private acreages across Canada to make finding a unique campsite as easy as search, browse and book!
The Annual Greg Smith Award – Investor and Company TEAM with the MOST GRIT
We look forward to handing this year's Greg Smith Award to a very deserving Investor and Company Team at our Mountain Summit.
When it comes to entrepreneurship and investment, Greg Smith never lacked in grit. At BDC he supported companies so early in their journey, many would have coined them (and him!) crazy. Indeed, his investments included some of the earliest cash into companies like General Fusion and Copperleaf.
He went on to co-found Espresso Capital and then TIMIA Capital. With these ventures, he offered early entrepreneurs with a new way to access non-dilutive capital despite their early stage in development. Greg empathized deeply with the plight of the entrepreneur. He never just wrote a cheque. He was a partner in their path and has a history of sticking with them through thick and thin. It is for these reasons that Angel Forum is very proud to award the "Greg Smith - Investor and Company TEAM with the MOST GRIT" to a deserving Investor and Company Team annually.
The Greg Smith Award is to recognize the investor/company team that stuck together to work through some of the more challenging moments that entrepreneurship inevitably brings. Too often there are stories of investing and giving up or misaligned expectations between angels and their companies. With this award, we uncover the stories of how a strong and committed team can work together and ultimately share in success.
Previous recipient of the Greg Smith Award were Glenn Bindley of Redlen Technologies Inc. and investor Ralph Turfus. Redlen Technologies is the leading provider of multi-energy, X-ray imaging modules based on proprietary Cadmium Zinc Telluride imaging sensors. Their precision energy detection platform provides solutions to Global Fortune 500 companies in the medical imaging, security and non-destructive testing market segments. Ralph described the 20-year journey of the Vancouver Island based tech company and the importance of strong investor-entrepreneurs relationships through many ups and downs.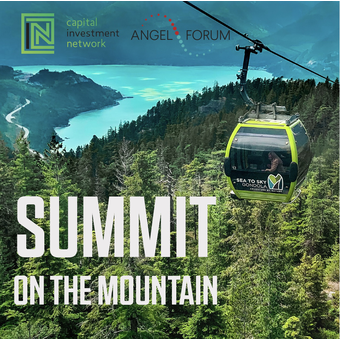 Sea to Sky Gondola, 36800 BC-99, Squamish, BC V0N 3G0, Canada