Summit on the Mountain - June 8, 2023 - Sea to Sky Gondola
Event Details
Our 2nd instalment of a special event: Summit on the Mountain: Thursday afternoon, 6 special companies presenting at a special location!
For those that don't know the area yet, we would like to introduce you to our beautiful Sea to Sky corridor. After a beautiful drive on the Sea to Sky highway, the Sea to Sky Gondola will take you to the top where you will enjoy spectacular views. This will be followed by a lunch and to stay true to our mandate: we'll arrange for 6 special companies to present. After that you'll have time to explore the surroundings while enjoying - have we mentioned it yet? - the beautiful views.
Seating is extremely limited and Angel Forum members and their partners have priority.
Tickets to include the gondola ride!
We look forward to you joining us!
Schedule:
12pm Meet at the Gondola
12.30 - 1.15 Lunch
1.15 - 2.30 Company Presentations
2.30 - 3.00 Greg Smith Award
3.00 - 3.30 Break
3.30 - 4.30 Company Presentations
4.30 - ?? Enjoy the view
The Annual Greg Smith Award – Investor and Company TEAM with the MOST GRIT
We look forward to handing this year's Greg Smith Award to a very deserving Investor and Company Team at our Mountain Summit.
When it comes to entrepreneurship and investment, Greg Smith never lacked in grit. At BDC he supported companies so early in their journey, many would have coined them (and him!) crazy. Indeed, his investments included some of the earliest cash into companies like General Fusion and Copperleaf.
He went on to co-found Espresso Capital and then TIMIA Capital. With these ventures, he offered early entrepreneurs with a new way to access non-dilutive capital despite their early stage in development. Greg empathized deeply with the plight of the entrepreneur. He never just wrote a cheque. He was a partner in their path and has a history of sticking with them through thick and thin. It is for these reasons that Angel Forum is very proud to award the "Greg Smith - Investor and Company TEAM with the MOST GRIT" to a deserving Investor and Company Team annually.
The Greg Smith Award is to recognize the investor/company team that stuck together to work through some of the more challenging moments that entrepreneurship inevitably brings. Too often there are stories of investing and giving up or misaligned expectations between angels and their companies. With this award, we uncover the stories of how a strong and committed team can work together and ultimately share in success.
Previous recipients of the Greg Smith Award were Glenn Bindley of Redlen Technologies Inc. and investor Ralph Turfus in 2020 and Paul Maurer of Actenum and investor Nick Bedford in 2022.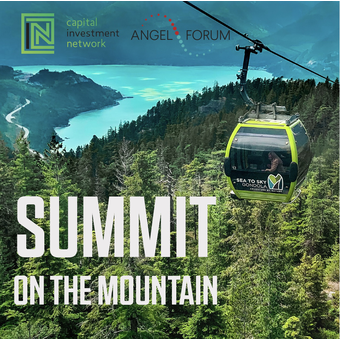 Sea to Sky Gondola, 36800 BC-99, Squamish, BC V0N 3G0, Canada